Lanhill NAVID AMI
CBS 1057 (UK)
Caspisk Häst, hingst
2001-06-06 hos Fleur Scott, Chippenham, Wilts, Storbritannien

2010-07-??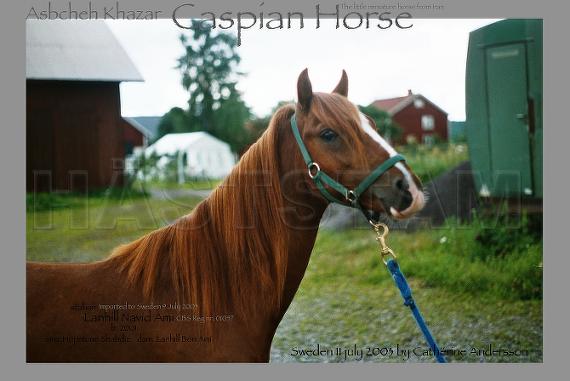 Foto: Cathérine Andersson



Tillhörig: Ca Za Caspian Stud
Färg: fux, bls
Importerad: 2003-07-?? från Storbritannien av Cathérine Andersson och Tomas Davidsson, Odensbacken.
Utlåtande:
Världens största Caspiska förening
> The Caspian Breed Society, CBS
> Film om Caspiska hästar i Iran
Stamtavla
Övrigt:
DNA tested year 2003. University of Kentucky. Accession number: H03-07297. Comments: Parentage not Excluded.
Avelslicensierad 2003: S-CBS 8
Avelshingst i Sverige.
Inskickad av: Cathérine
Avkommelista
Huvudsponsor

Länkar
Verktyg