Godolphin Arabian ox
Arabiskt Fullblod, hingst
172?
1753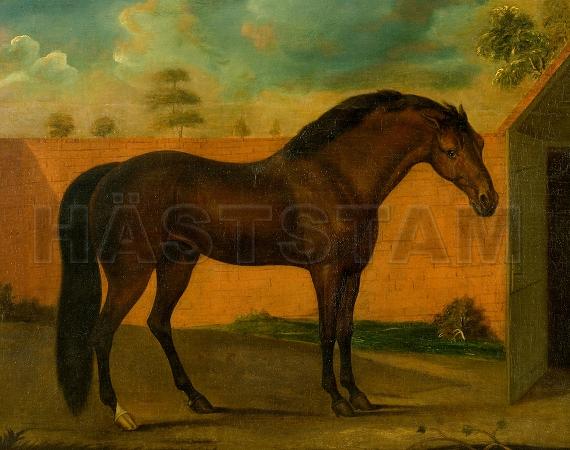 Foto: okänd

Färg: brun, vtbff
Höjd: 152 cm
Stamtavla
desert stallion
&nbsp
&nbsp
&nbsp
&nbsp
&nbsp
&nbsp
&nbsp
&nbsp
&nbsp
&nbsp
&nbsp
&nbsp
&nbsp
&nbsp
desert mare
&nbsp
&nbsp
&nbsp
&nbsp
&nbsp
&nbsp
&nbsp
&nbsp
&nbsp
&nbsp
&nbsp
&nbsp
&nbsp
&nbsp
Övrigt:
"The Godolphin Arabian also known as the Godolphin Barb, was an Arabian horse and was one of three stallions that founded the modern Thoroughbred race horse bloodstock (the others were the Darley Arabian and the Byerley Turk). He was named for his best-known owner, Francis Godolphin, 2nd Earl of Godolphin.

The Godolphin Arabian was foaled about 1724 in Yemen and moved several times before reaching England. At some early age he was exported, probably via Syria, to the stud of the Bey of Tunis. From there he was given to Louis XV of France in 1730. It is believed he was a present from monarch to monarch. Even so, he was not valued by his new French owner, and it is believed he was used as a carthorse.
The horse was then imported from France by Edward Coke and sent to his stud at Longford Hall, Derbyshire where he remained until the death of his owner in 1733.

He was bequeathed to Roger Williams, "proprietor of the St. James's Coffee House", who inherited Coke's stallions. He was bought by the 2nd Earl of Godolphin, and placed at his stud at Babraham, Cambridgeshire, until his death on Christmas Day 1753.
Controversy exists over the ancestry of the Godolphin Arabian; some writers referred to him as a Barb, because of his believed country of origin, Tunisia, on the Barbary Coast. Whyte in the 1840 History of the British Turf, refers to the horse as "The Godolphin Barb, or as he has been improperly called, the Godolphin Arabian" (emphasis added). before further clarifying, "He was long considered an Arabian, although his points resembled more those of the highest breed of Barbs." However, portraits, showing a horse with a high-carried tail and dished profile, features that differentiate Arabians from Barbs, lead modern experts to believe he was more likely an Arabian. The confusion is understandable, but while the breeds have some characteristics in common and are distantly related, their phenotypes are quite distinct. There was also an argument raised that he was actually a Turkoman horse, merely called an Arabian in order to raise the stud fee. However, it is most widely believed that he was an Arabian or had primarily Arabian lineage.

Originally, this small stallion was considered inferior to the larger European horses of the time and not meant to be put to stud. Instead he was used as 'teaser', a stallion used to gauge the mare's receptiveness. This changed when Lady Roxana, a mare brought to the stud specifically to be bred to a stallion called Hobgoblin, rejected her intended mate, and so the Godolphin Arabian was allowed to cover her instead. The result of this mating was Lath, the first of his offspring, who went on to win the Queen's Plate nine times out of nine at the Newmarket races. The second colt from this pair was Cade, and the third was Regulus. All three were the same gold-touched bay as their sire, with the same small build and high crested conformation. All were exceptionally fast on the track, and went on to sire many foals themselves. This was the start of the Godolphin Arabian's prowess as a racing stud, and he spent the rest of his days as the Earl of Godolphin's prize stallion, bred to England's finest mares.

The major Thoroughbred sire Eclipse traces in his sire line to the Darley Arabian, but his dam was a daughter of Regulus and thus also traces to the Godolphin Arabian. This pattern continues to be seen today, with the Godolphin Arabian more heavily represented in dam lines and in the "middle" of pedigrees as opposed to direct sire lines.

The American connection began with the filly Selima (born in 1745 out of Shireborn). She was purchased by Benjamin Tasker, Jr. of the Province of Maryland in Colonial America, carried to the new world, and raced between 1750 and 1753. She won the biggest prize of the era, 2,500 pistoles at Gloucester, Virginia which marked "the beginning of the remarkable racing contests between the rival colonies of Maryland and Virginia." After this, she became a successful broodmare at the Belair Stud in Collington, Maryland.
Among the many famous horses he sired were Lath, Cade (full brother to Lath), Blank and Regulus. The Godolphin Arabian was Leading sire in Great Britain and Ireland in 1738, 1745 and 1747.

The veterinary surgeon Osmer, as quoted by Prior, described him in the following manner:
There never was a horse (at least, that I have seen) so well entitled to get racers as the Godolphin Arabian; for, whoever has seen this horse must remember that his shoulders were deeper, and lay farther into his back, than those of any horse ever yet seen. Behind the shoulders, there was but a very small space ere the muscles of his loins rose exceedingly high, broad, and expanded, which were inserted into his hindquarters with greater strength and power than in any horse I believe ever yet seen of his dimensions, viz fifteen hands high.
The Godolphin Arabian died at Hog-Magog, Cambridgeshire in 1753, aged around 29. The horse's grave in the stable block of Wandlebury House can be visited. When he was interred, the occasion was marked with ale and cake.
Although today the majority of Thoroughbred horses' sire lines trace to the Darley Arabian, many famous American horses of the past trace their sire line back to the Godolphin Arabian. These include Seabiscuit, Man o' War, War Admiral, and Silky Sullivan. Today, dual Breeders' Cup Classic winner Tiznow represents his line.

In Europe, his influence survives mainly through the 2,000 Guineas winner Known Fact, and his son, the champion miler Warning. This line has produced outstanding sprinters such as Diktat (Haydock Sprint Cup), Avonbridge (Prix de l'Abbaye de Longchamp) and Dream Ahead (July Cup). The Derby has not been won by a sire line descendant of the Godolphin Arabian since Santa Claus in 1964 and is nowadays dominated by descendants of the Darley Arabian."

Från engelskspråkiga Wikipedias artikel om Godolphin Arabian, 2014-11-05.
Avkommelista